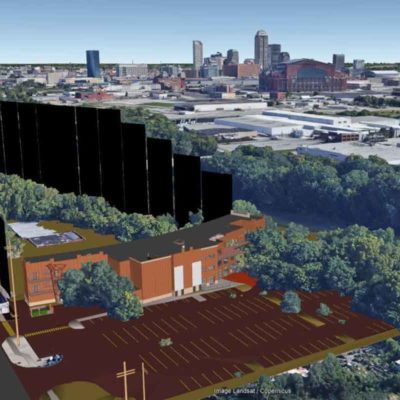 This project will certainly be un-fore-gettable! Indianapolis will be home to a brand-new entertainment venue that's situated right along the White River. Back 9 Golf & Entertainment entrusted Fairchild Communication Systems, Inc. to secure the building with a fully integrated fire detection system.
Back 9 Golf & Entertainment is dubbing itself as downtown Indy's "fourth stadium." The massive, 58,500 square-foot venue features a three-story golf range, 75 climate-controlled golf bays, live music, a beer garden, a restaurant and a bar. Back 9's multi-use music pavilion can fit up to 350 people and will host weekly live performances, including an impressive list of local Indianapolis performers.
With an entertainment venue the size of Back 9, ensuring the safety of the hundreds of people throughout the space is incredibly important. The fire detection system the Fairchild team installed will allow visitors and workers alike to respond to potential danger quickly and effectively, by safely evacuating the building.
Back 9 is set to open this June, and we are excited to see the finished venue. Stay tuned for more information on tee-rific events that will be held at Back 9 Golf & Entertainment!