There's a burglary every 12 seconds, resulting in more than $3.1 billion in property and personal loss annually.
*source: FBI
Business owners have a lot of responsibilities, including protecting everyone inside their building. Do you have the equipment and technology you need to keep everyone safe and secure during emergencies? Learn how one business was able to quickly take action in an unpredictable situation.
In early April, one senior living community in New Palestine, Indiana, was targeted by robbery suspects who stole and got away with nearly $2,000 worth of laptops and power tools. Fortunately, one year prior to the incident, Fairchild Communication Systems, Inc. was hired to integrate multiple security solutions including a video surveillance system with cameras in various places throughout the building. Utilizing the footage from the video surveillance, the business and authorities were able to quickly track where the suspects went and send out an alert to the public containing high-quality images of the criminals asking for tips on identification. With the help of the security camera and courageous locals, the suspects were identified and caught in just three short days. READ MORE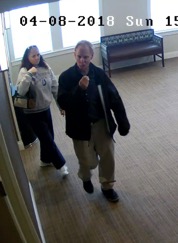 Although the value of the items stolen is relatively low in this case, the cost of crime can be much greater. The risk of criminals returning, higher insurance costs, lost business, unsafe reputation and the stress of wondering if it will happen again can magnify the impact to your bottom line.
How can you protect your business?
An analysis of your security systems is a good place to start. In the event of an emergency situation…
Can you immediately communicate to all in your building?
Do residents and staff have an instant way to contact the office for help?
Do you have documentation to show who has entered and exited your building?
Has your response equipment been inspected and is it ready for use?
Can first responders receive access to your video and audio systems quickly and efficiently?
If you answered 'No' to any of these, there's more you can do to be prepared. With Fairchild Communication Systems, Inc., we can integrate the critical systems you need to allow for quick access and ease in emergency situations. Schedule your free assessment today and let Fairchild Communication Systems, Inc. walk you through possible products and solutions for a safe and secure environment.