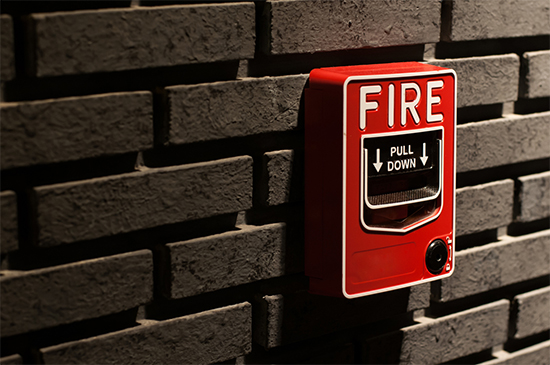 As smoke detector and fire alarm technology has improved, it's no coincidence the number of fire deaths has drastically decreased. More Americans are protecting their homes, businesses and properties with sensors, detectors and alarms that can respond in a moment's notice and alert residents, employees, guests and more to exit their building.
Local building codes often determine the fire alarm system minimum requirements and are focused on the safety of people and the firefighters that may have to respond to a fire. However, a business owner may have additional priorities, such as protecting valuable proprietary equipment and data electronics, which means systems are often needed to go beyond the minimum code requirements after a design consultation.
Fairchild Communication Systems, Inc. is proud of our efforts to help keep Hoosiers safe from smoke and fire with an assortment of state-of-the-art solutions and integrated systems.
As the country's most common option, ionization smoke detectors have been found to be fastest at detecting flames in testing conducted by the U.S. Fire Administration, U.S. Consumer Product Safety Commission and the National Institute of Standards and Technology. They're cost-effective and come with a long lifespan, but they do face one disadvantage as they may be late to recognize slow-burning or smoldering fires started by lit cigarettes, fireplace embers, frayed wiring or other common fire starters.
Photoelectric alarms have been found to detect smoke and alert inhabitants up to 50 minutes faster, eliminating time for dangerous and deadly smoke and carbon monoxide levels to build. The International Association of Fire Fighters recommends photoelectric alarms, which use a beam of light to detect smoke particles, exclusively in all new construction.
At Fairchild, we're a full-service provider of fire alarms, smoke detectors and integrated systems of "smart" devices working wirelessly and connected for a better monitoring process. We also conduct the most up-to-date compliance requirements and state inspections for fire alarms, sprinkler systems, emergency exit lighting, fire extinguishers and more.
Fire alarm systems have been a key component of the overall safety and security solutions Fairchild has supplied The Justus Family of Companies, an Indianapolis-based developer of senior housing and independent living communities. • Read the full case study
The smarter, more capable and connected fire alarm systems of the future will continue to innovate on today's state-of-the-art features. Wireless and intelligently integrated products will continue to push the envelope in terms of accessibility from multiple smartphones or mobile displays while offering instant mass-notification and response capabilities.
If you'd like to learn more about the latest innovations in smoke detection and fire prevention, contact our team at Fairchild Communication Systems, Inc. Let us show you our protection possibilities with an on-site consultation or strategy session for your facility's fire safety.