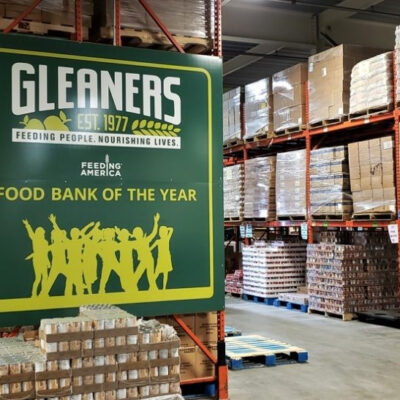 Fairchild Communication Systems, Inc. recently completed an important project at the Gleaners Food Bank of Indiana. The experts at Fairchild were tasked with solving a significant safety challenge at the organization's main distribution hub in Indianapolis.  
Gleaners Food Bank leads the fight against hunger in Indiana with a team consisting of full-time staff and thousands of dedicated volunteers in their expansive 300,000 square foot facility. As accountable stewards of their mission, and those working toward it, the management team at Gleaners recognized a critical safety issue: their ability to communicate messages to all the individuals working inside the building during emergencies was extremely limited.  
FCS design experts Tim Martin and Matt Ranft turned over a solution to Project Manager Jenny Mondy and a team of technicians. The solution included the Bogen C4000 paging systems and multiple emergency alert buttons. To address the challenges posed by high ambient noise areas, speakers were supplemented by visual strobes, ensuring that staff, visitors, and volunteers are visually alerted to critical announcements, even in noisy environments. 
Fairchild extends its heartfelt appreciation to all those who contributed to the success of this project. The collaborative efforts of our team, along with the guidance and support of Gleaners Food Bank, addressed the safety challenges they faced and enables them to continue their vital work of serving Indiana communities by providing nourishment to those who need it most.