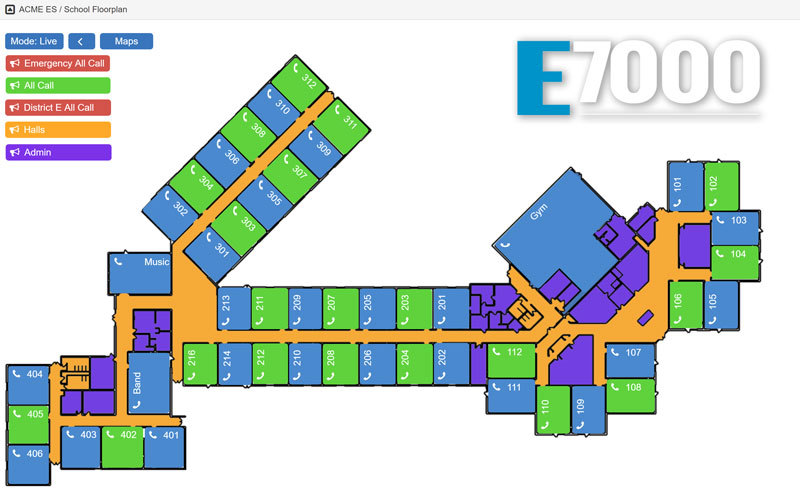 Schools across America rely on public address, intercom and paging systems every day to effectively communicate across sprawling campuses and into individual classrooms. From delivering morning announcements to spreading potentially life-saving directions during severe weather or an emergency situation, a school communication system must be capable, reliable and easy to use.
As a local integration leader, Fairchild Communication Systems, Inc. is committed to giving area school districts and higher education campuses the highest quality communication and safety systems available. This year, we're excited to bring the latest state-of-the-art solution to the Indiana market.
The E7000 Series from Bogen Communications, Inc. leverages the latest digital and mobile technologies across software and hardware specifically designed to meet the needs of educational environments. Simply calling it an intercom and paging system doesn't do it justice, however, understating the internet protocol (IP) technology's communication, safety and security capabilities.
Administrators, educators and support staff can easily utilize the platform through an intuitive graphical user interface (GUI), accessible from anywhere via a web browser, smartphones and tablets as well as a network of voice over IP (VoIP) integrated phones and other devices.
The GUI includes simple and scalable map-based paging and intercom capabilities, showing users their unique facilities and letting them schedule custom alerts or connect with specific rooms, wings or buildings through custom map graphics of their campus.
The E7000 Series integrates with existing security devices — such as access control locks, sensors or alarms — and also includes its own line of phones, speakers and other state-of-the-art hardware appliances.
On an individual classroom level, an exciting highlight of the E7000 Series is its Digital Call Switch. The capacitive touch switch includes no moving parts that can jam or fail and allows users to initiate or receive normal, urgent and emergency calls between classrooms and a central office or other staff locations. In the event of a dangerous or lockdown situation, the Digital Call Switch can issue emergency calls and gives teachers a fast, easy and effective way to respond and conduct classroom check-ins.
At Fairchild Communication Systems, Inc., we're passionate about outfitting educators with the absolute highest quality communications and safety integration systems. From initial system design through installations and ongoing service and support, our experts are excited to bring comprehensive solutions like the E7000 Series into Indiana schools. Reach out to our team today if you'd like to learn more or schedule a free on-site survey and review at your facility.